This Homeowner in Gleneagle Got Her Shower Restored by Our Grout Sealing Company
September 05, 2023
This customer had arrived from a vacation trip and wanted to make some home renovations. The owner knew she needed expert help with her shower. When she was home, she conducted an internet research. She discovered our
grout sealing services in Gleneagle, CO
, and after viewing our
picture gallery
on our website, she was confident we were the right choice. The homeowner called us shortly after, and we immediately accepted her request.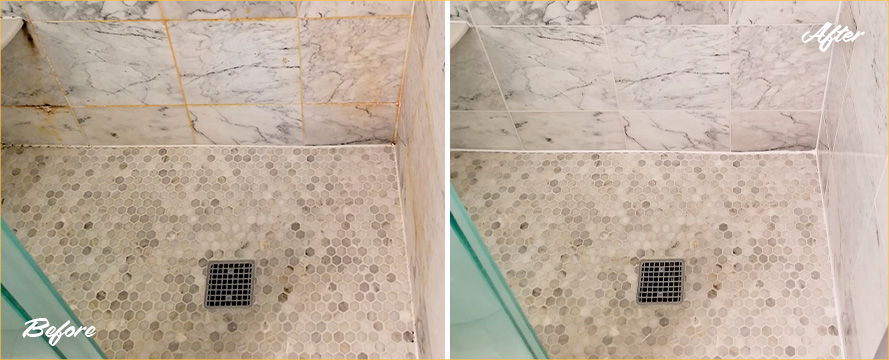 Our grout sealing professionals arrived at the homeowner's house a couple of days later for an in-home inspection. After inspecting the shower, our specialists determined that no standard cleaning procedure would resolve the problem. The geometrically-shaped tile shower was in bad shape. Some of the caulking had fallen apart, the grout lines were covered in dirt, and they had discolored. Our team proposed a multi-step grout sealing process to the homeowner, and she agreed.
Our experts returned to our client's home a few days later with all the tools needed to complete the restoration. Our first step was to use bio-safe cleaners to clean the entire shower surface. The shower and walls were meticulously steam-cleaned to eliminate filth from every corner, and the floor was deep-cleaned throughout. The shower was spotless after we finished cleaning.
Our team removed any moldy or failing caulk and all seams before replacing it to restore it to its prime condition. The following step was the sealing process. Our team applied Tile Armor to protect the floor. It is stain and filth-resistant, making grout cleaning much more accessible and creating less porous, more hygienic surfaces. It contains grout hardening agents to help minimize grout erosion.
Our client was satisfied with the results of our work. She was eager to take a shower because it was immaculate. She thanked us for the work that we had done and said she would recommend our services to anyone she knew in need of restoration. At the end of the appointment, our professionals provided the customer with further cleaning recommendations. Shower maintenance can be a difficult and time-consuming task. Surfaces in these locations are constantly in contact with water, and due to this wear and tear, they can quickly deteriorate. We always take the time to provide our clients with helpful advice on keeping these problematic areas in great shape.
We recommend starting a weekly cleaning routine to prevent dirt and grime from accumulating. Use only pH-neutral soap-free cleaners like
Sir Grout's Natural Hard Surface Cleaner
to get the best results. Our product is made of high-quality ingredients and provides numerous benefits. It's non-toxic and safe for everyone in the house, including pets. Soap-based cleaners should be avoided since they leave a residue penetrating the grout lines. This can result in serious issues, such as structural damage. Cleaning products with acidic properties are also not recommended. These substances contain strong chemicals that might discolor or damage the surface.
Because our solution has no harsh components, it eliminates dirt while not damaging the surface. It may also remove grease, sand, mud, and any other kind of residue left to sit on the surface. To maximize cleaning efforts, the customer was advised to use non-abrasive instruments to remove the most tenacious stains. Our technicians suggested utilizing a mop, a towel, or a terry cloth. Keeping the area well-ventilated and dry is critical to avoid hazards like mold and mildew. Leave the shower door ajar or the windows open. If not, ensure there's a ventilation source going through the area. Always use a squeegee, a towel, or a terry cloth rag to dry the surface. Showers can also be kept pristine by squeegeeing regularly after completing showering.
Our team of specialists is ready to deliver the best grout sealing services for the hard surfaces in your house. Call us at
(719) 800-1221
or fill out the "Request a Quote" form on this page to schedule a free consultation today. If you want to keep up with our latest news and promotions, subscribe to our
newsletter
.